Divine Industries (Divine) in Benin, West Africa, processes organic pineapple into juice and syrup. The pineapple is purchased through a cooperative from 1600 local farmers. Since 2012, the family business has been led by founder Antoinette Abbey. Currently, the company has 7 employees and 13 on-call workers, 80% of whom are women
Pineapples grow well on the fertile soil in the coastal regions of West Africa. Annually, 400,000 to 450,000 tons of pineapple are produced in Benin. The demand for pineapple juice in Benin is low due to the popularity of other drinks. In neighbouring countries where not much pineapple juice is produced, the drink enjoys more popularity. That is why Divine focuses entirely on export.
All products are destined for export in the region. About 75% of the juice is sold in Burkina Faso, 15% in Niger and 10% in the new market Senegal. The main customers (80%) are wholesalers who supply hotels, supermarkets and shops. The remaining 20% ​​is sold directly to end customers.
Divine is currently processing a ton of fresh pineapple per day. In the production process, pineapple is first peeled and cleaned. The pineapple is then boiled into juice, pasteurized and finally bottled for sale. Nothing else is added to the juices and syrups. Divine has a HACCP certification, which means that the products are produced under international food safety standards.
Pineapple is the third export product in Benin. The government wants to increase the current production to 600,000 tons by 2025, whereby making the value chain more sustainable plays an important role. This should lead to a greater economic share of the sector, new export markets and additional jobs. This offers farmers opportunities to increase their production and generate more income.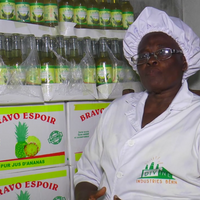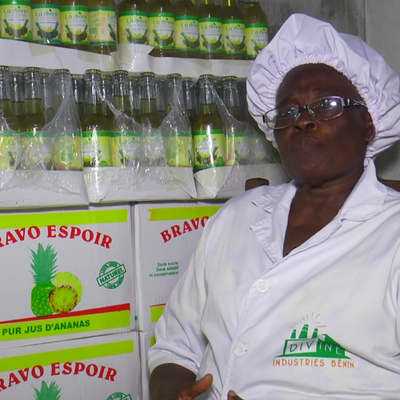 General information
Financial information per 2020-12-31
| | |
| --- | --- |
| Total assets | €144,514 |
| Revenue | €37,490 |
| Leverage ratio | 56.00% |
| Liquidity | 214.00% |
About Benin
Benin is a country in West Africa. It is bordered by Togo to the west, Nigeria to the east, Burkina Faso to the north-west, and Niger to the north-east. The majority of its population lives on the small southern coastline of the Bight of Benin, part of the Gulf of Guinea in the northernmost tropical portion of the Atlantic Ocean. Benin covers an area of 114,763 square kilometers and its population in 2018 was estimated to be approximately 11.49 million. Benin is a tropical nation, highly dependent on agriculture, and is a large exporter of cotton and palm oil. Substantial employment and income arise from subsistence farming.
Last funded project
Divine Industries 5
Entrepreneur Antoinette Abbey provides employment mainly for women. Her company, Divine Industries, processes fresh pineapples into fruit juice. With this loan of €10,000 Divine can purchase more pineapples to produce more juice, increasing incomes for 85 pineapple farmers.
Fully funded in 3 days on 17 January 2022.