Federacion Campesina is an association of 5 farmers' cooperatives in the Cauca region of southwestern Colombia. These farmers' organizations, which include a total of 595 farmers, have been active in the region for 50 years. Since 1998, they have been registered as Federacion Campesina (FCC).
FCC supports their members in growing and trading high-quality specialty coffee. This coffee has both a Fair Trade and Organic label, which not only means that the farmers get a better, fair, price for their coffee, but also that it is grown in an environmentally friendly way. FCC helps the farmers do this, for example by producing its own organic fertilizer, which the farmers use to fertilize their crops without the use of chemicals. FCC also offers the farmers technical advice on how to grow coffee in an environmentally friendly way, takes care of collecting their harvest and sells it to regular customers in the United States and Asia, as well as in Colombia itself.
As a result of climate change, there has been very heavy rainfall in this area over the past 2 years, resulting in reduced coffee yields. These changes in the weather make it more difficult to predict how much coffee can be produced in a season. To deal with this, FCC has developed a climate adaptation plan, which enables farmers to adapt their farming methods to better cope with the effects of climate change and increase their production.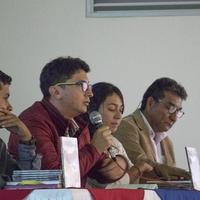 General information
| | |
| --- | --- |
| Borrower | Federación Campesina del Cauca |
| Country | Colombia |
| Head office | Popayan |
| Website | https://fcccauca.org/en/home/ |
| Founded | 30 March 1998 |
| Active on Lendahand since | 20 March 2023 |
Financial information per 2022-12-31
| | |
| --- | --- |
| Total assets | €798,490 |
| Revenue | €1,424,216 |
| Leverage ratio | 42.00% |
| Liquidity | 114.00% |
About Colombia
Colombia is a country in South America with territories in North America. With over 50 million inhabitants Colombia is one of the most ethnically and linguistically diverse countries in the world, with its rich cultural heritage reflecting influences by various Amerindian civilizations, European settlement, forced African labour, and immigration from Europe and the greater Middle East. Urban centres are concentrated in the Andean highlands and the Caribbean coast. Colombia is one of the world's 17 megadiverse countries and has the second-highest level of biodiversity in the world.
Last funded project
Federacion Campesina 2
For small-scale coffee farmers in Colombia, the effects of climate change are evident. The last few years have seen exceptionally high rainfall, causing their coffee crops to fail. To make them more resilient, Federacion Campesina, a farmers' association, has created a climate plan that helps the farmers better cope with the changing climate. In a way that benefits both people and the environment, because their coffee was already Fair Trade and Organic certified. With this loan, the organization can help 75 farmers and their families sustainably improve their incomes.
Fully funded in 24 days on 18 June 2023.