Las Rosas is a social enterprise that combines women's rights and commercial activities in the coffee sector. It is a farmer's cooperative with 287 female members. Through the cooperative, the women learn to increase the yield of their coffee plantations and good water management. They also gain soft skills, such as assertiveness and addressing the division of tasks within the household.
The women-led cooperative is active throughout the coffee chain, from cultivation to coffee cup. The member farmers produce more than 450 tons of coffee annually. Of this, 40% is exported as green coffee to Canada by RGC Coffee. The coffee is sold there with a price premium as 'made by women'. Las Rosas also processes, roasts and sells coffee itself. This coffee, along with cookies, desserts and other products, is made by the farmer families and sold in two of their own shops/cafes in the city of La Plata.
Las Rosas has an additional source of income through the sale of seedlings of a new variety of coffee plant that is more resistant to disease. Farmers (m/f) who buy these seedlings use less pesticides, which is better for the environment and for the health of the communities. Las Rosas wants to expand the sale of seedlings and needs working capital to buy certified seeds, fertilizer, soil and planting bags. They also want to hire 31 workers for 3 to 4 months to grow, care for and sell the seedlings.
Solidaridad, one of the four founding members of PlusPlus, has been assisting Las Rosas since 2016, with access to financial services for the women entrepreneurs being one of the pillars.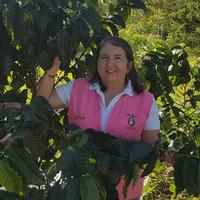 General information
Financial information per 2020-12-31
| | |
| --- | --- |
| Total assets | €77,375 |
| Revenue | €101,705 |
| Leverage ratio | 72.00% |
| Liquidity | 177.00% |
About Colombia
Colombia is a country in South America with territories in North America. With over 50 million inhabitants Colombia is one of the most ethnically and linguistically diverse countries in the world, with its rich cultural heritage reflecting influences by various Amerindian civilizations, European settlement, forced African labour, and immigration from Europe and the greater Middle East. Urban centres are concentrated in the Andean highlands and the Caribbean coast. Colombia is one of the world's 17 megadiverse countries and has the second-highest level of biodiversity in the world.
Last funded project
Las Rosas
With a loan of EUR 10.000 women's cooperative Las Rosas can expand the growth and sale of stronger coffee plants. This creates extra employment for 31 people and extra income for the cooperative, of which 287 women benefit.
31 new jobs

287 people reached
Fully funded in 3 days on 14 May 2021.