Universal Palm Oil Services Limited (UPOSL) is a palm oil processing company. Alann Bridges, himself a technical palm oil expert, founded the company to make the market more accessible to small-scale farmers so they can take advantage of the opportunities this market offers them to improve their livelihoods. 
Currently, the palm oil processing company purchases palm fruits from 48 farmers, whom they pay directly. This cash market allows the farmers to focus more on the growing of their crops, while UPOSL supports them with logistics and agricultural supplies. The company processes the palm oil and handles sales and marketing. UPOSL also provides farmers with pre-financing for seedlings and costs to be incurred around harvest. The fruits of the oil palm can be harvested every two weeks, giving farmers year-round income.
The main client of UPOSL is the Ghanan government, whom they sell 35 percent of their palm oil to for a high school food program, among others. The remainder of the oil is sold in the region.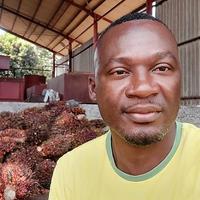 General information
| | |
| --- | --- |
| Borrower | Universal Palm Oil Services Limited |
| Country | Ghana |
| Head office | Accra |
| Website | https://plusplus.nl/en-NL |
| Founded | 25 June 2019 |
| Active on Lendahand since | 16 September 2022 |
Financial information per 2022-06-30
| | |
| --- | --- |
| Total assets | €175,716 |
| Revenue | €372,154 |
| Leverage ratio | 53.00% |
| Liquidity | 544.00% |
About Ghana
Ghana, officially the Republic of Ghana, is a country along the Gulf of Guinea and the Atlantic Ocean, in the subregion of West Africa. Spanning a land mass of 238,535 km2 (92,099 sq mi), Ghana is bordered by the Ivory Coast in the west, Burkina Faso in the north, Togo in the east, the Gulf of Guinea and the Atlantic Ocean in the south. Ghana is a unitary constitutional democracy led by a president who is both head of state and head of the government. Ghana's growing economic prosperity and democratic political system have made it a regional power in West Africa. It is a member of the Non-Aligned Movement, the African Union, the Economic Community of West African States (ECOWAS), Group of 24 (G24) and the Commonwealth of Nations.
Last funded project
Universal Palm Oil Services
This Ghanaian company ensures that palm oil makes a positive impact for people and nature. Palm oil's high productivity makes it a favorable crop for small-scale farmers. Especially when they grow it in an environmentally friendly way, with care for biodiversity. Universal Palm Oil Services pays close attention to this. With this loan, the palm oil processing company can buy sustainably grown palm fruit from 63 farmers, who receive a fair price for it. In this way, the company protects nature and provides a better livelihood for these families.
3 new jobs

63 people reached
Fully funded in 26 days on 29 March 2023.