Aurora Zeas is an ambitious woman from Managua, the capital of Nicaragua. As director and co-owner of the family business, she trades in honey together with her two brothers. After several difficult years due to local crises and the pandemic, her business is now well on the rise with plans to expand.
The success story of Zeas Apicola started with a hobby. In 2004, the Zeas family had five beehives producing honey for their own consumption. As the bees proved very productive, they started selling the extra honey. Soon Aurora saw more opportunities in this natural product. In 2012, they began processing the honey themselves, and in 2017, Zeas Apicola was formally registered as a family business. The company markets its honey and honey products under the brand name BiiBii. 
Zeas Apicola now purchases honey from 130 small beekeepers, and the Biibii brand has expanded to include a beautiful product line of honey products. This includes honey in 7 different flavors, cough syrups, pollen grains and cosmetics such as soap and oil. Most revenue now comes from the medicinal products and consumer honey. The company has ISO 901, HACCP & GMP certifications. Its main outlets are the U.S. supermarket chain Walmart and the local supermarket chain La Colonia. Aurora would like to do more with their pure Nicaraguan honey and wants to target the hospitality sector. To do so, she needs working capital to buy more honey from beekeepers.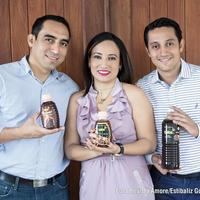 General information
| | |
| --- | --- |
| Borrower | Zeas Apicola, Sociedad Anonima |
| Country | Nicaragua |
| Head office | Managua |
| Website | https://www.biibii.mobi/ |
| Founded | 5 August 2020 |
| Active on Lendahand since | 15 March 2022 |
Financial information per 2022-03-01
| | |
| --- | --- |
| Total assets | €190,231 |
| Revenue | €208,721 |
| Leverage ratio | 77.00% |
| Liquidity | 213.00% |
About Nicaragua
Nicaragua is the largest country in the Central American isthmus, bordered by Honduras to the northwest, the Caribbean to the east, Costa Rica to the south, and the Pacific Ocean to the southwest. Managua is the country's capital and largest city and is also the third-largest city in Central America, behind Tegucigalpa and Guatemala City. The multi-ethnic population of six million includes people of indigenous, European, African, and Asian heritage. The main language is Spanish. Indigenous tribes on the Mosquito Coast speak their own languages and English. The biological diversity, warm tropical climate and active volcanoes make Nicaragua an increasingly popular tourist destination.
Last funded project
Zeas Apicola
Meet the Zeas family. Their honey business provides income for 130 small beekeepers in Nicaragua. Their pure honey is a healthy product and 100% natural. But there's more. Bees are key to biodiversity. Their pollination strengthens fragile ecosystems and makes crops bear more fruits. Thus, investing in bees contributes to food security, biodiversity and poverty alleviation. With this loan, Zeas Apicola can buy honey from six more beekeepers and their busy bees.
3 new jobs

6 people reached
Fully funded in 48 days on 22 January 2023.