Entre Sierras is a cooperative of coffee farmers. High in the Colombian mountains, these farmers grow their coffee in an environment friendly way. The cooperative was founded in 2018 by 16 farmer families who, affected by the armed conflict that raged in Colombia for decades, wanted a better future. Since then, 12 more families have joined and the cooperative now consists of 28 families. They sell their coffee beans at a good price to the cooperative, which tests them for quality and then processes, packs and sells them to local and international buyers. 
Since it was founded four years ago, its' coffee sales have risen by 50%. Entre Sierras trains the farmers and provides them with technical support, which increases their yields and improves the quality. This also ensures that the coffee is grown in an environment friendly way, without the use of chemicals and with as little waste as possible. Entre Sierras' products have both Organic and Fair Trade certifications, for which there is high demand, especially on the international market.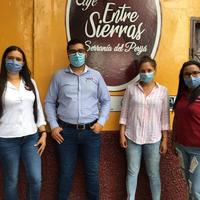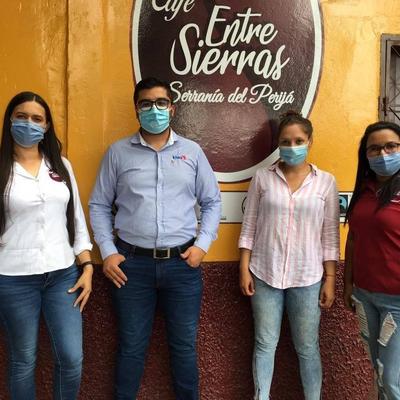 General information
| | |
| --- | --- |
| Borrower | ASOCIACION DE AGRICULTORES DE LA SIERRA NEVADA DE SANTA MARTA Y SERRANIA DEL PERIJA ENTRESIERRAS |
| Country | Colombia |
| Head office | AGUSTIN CODAZZI, CESAR |
| Website | https://www.facebook.com/cafeentresierras/ |
| Founded | 2 February 2018 |
| Active on Lendahand since | 18 October 2021 |
Financial information per 2021-12-31
| | |
| --- | --- |
| Total assets | €162,462 |
| Revenue | €274,155 |
| Leverage ratio | 22.00% |
| Liquidity | 111.00% |
About Colombia
Colombia is a country in South America with territories in North America. With over 50 million inhabitants Colombia is one of the most ethnically and linguistically diverse countries in the world, with its rich cultural heritage reflecting influences by various Amerindian civilizations, European settlement, forced African labour, and immigration from Europe and the greater Middle East. Urban centres are concentrated in the Andean highlands and the Caribbean coast. Colombia is one of the world's 17 megadiverse countries and has the second-highest level of biodiversity in the world.
Last funded project
Entre Sierras 2
In the Colombian highlands, this farmers' cooperative grows their coffee with care for people and planet. With this loan of 10,000 euros, their business can expand, allowing them to start working with 10 new farmers to produce Organic & Fair Trade coffee.
4 new jobs

10 people reached
Fully funded in 32 days on 2 April 2022.