Phytomedia is a Kenyan company that produces organic fertilizers. Skilled staff oversee the production process to ensure a high quality fertilizer that improves the soil and makes crops grow better. The company works with large commercial customers as well as small-scale farmers who buy the products on credit and are provided with technical advice.
Phytomedia has organic EcoCert certification and an extensive network of raw material suppliers. Although Phytomedia has so far mainly produced straw-based compost, a relatively new line of liquid fertilizer is already generating 5% of their profits. In addition, Phytomedia is also preparing to launch a new premium product aimed at coffee and tea producers.
Over the past 10 years, Phytomedia has nearly tripled its sales, which have been increasing continuously. In 2020, there was a decline due to Corona, but now sales are rising again. The company is currently producing 40 tons of fertilizer per month. Phytomedia has an extensive network of raw material suppliers. It currently employs 39 people, 41% of whom are women.
Over the next 2 years, Phytomedia has the ambition to grow further. Currently, they are in advanced negotiations with a large commercial customer, which would ensure more profit. Moreover, the growing demand for organic fertilizer from Europe offers good opportunities for export.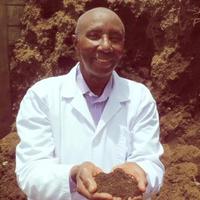 General information
| | |
| --- | --- |
| Borrower | Phytomedia International Limited |
| Country | Kenya |
| Head office | Limuru |
| Website | https://phytomedia.bio/ |
| Founded | 1 January 2001 |
| Active on Lendahand since | 3 September 2021 |
Financial information per 2021-09-30
| | |
| --- | --- |
| Total assets | €195,995 |
| Revenue | €174,452 |
| Leverage ratio | 97.00% |
| Liquidity | 1197.00% |
About Kenya
Kenya is East-Africa's financial centre, with the largest economy, the highest income per capita and the best infrastructure. The country is conveniently located on the coast, allowing it to become the regional trade centre. Kenyans are typically well-educated, compared to people in neighbouring countries with which it forms a customs union. There is a free market and low import and export restrictions. These factors all lead to Kenya being the main location for foreign companies to settle, after South-Africa. Important sectors are agriculture, industry and services. The latter includes the financial sector. The increase in export, of tea and flowers for example, also contributes to an influx of foreign currency.
Last funded project
Phytomedia 2
Increased yields thanks to environment-friendly agriculture, that's what Phytomedia strives for. With a loan of 24,000 euros, this producer of organically certified fertilizer can train 392 small-scale farmers in organic farming and provide them with fertilizer. Good for the farmer and for nature!
Fully funded in 26 days on 8 February 2022.