PasarMIKRO is a digital platform with services for the agricultural sector in Indonesia. It was founded by Dien Wong in 2020. In Indonesia, almost all agricultural products, whether eggs, corn, rice or chickens, are marketed through small traders. Most traders operate without a formal business structure, often being small family farms. During the pandemic, this supply chain became totally disrupted, hitting small-scale farmers the hardest. Dien Wong, who previously worked in the small-scale fisheries chain himself, decided to do something about it. This was the beginning of PasarMIKRO. 
PasarMIKRO provides online services to small-scale producers and traders of agricultural products. They receive these services through their cell phones. With a mobile app, agri-entrepreneurs can manage their finances and trade conveniently. The platform provides users with access to (new) markets, trade finance and market knowledge. It ensures that farmers have access to a larger marketplace, allowing them to compare prices from multiple traders to choose a favorable buyer.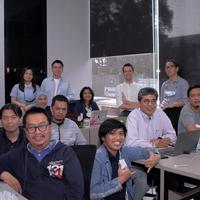 General information
| | |
| --- | --- |
| Borrower | PT Pasar Mikro Global |
| Country | Indonesia |
| Head office | Jakarta |
| Website | http://www.pasarmikro.id |
| Founded | 1 December 2020 |
| Active on Lendahand since | 15 July 2022 |
| Credit Score | 2 |
Financial information per 2022-06-30
| | |
| --- | --- |
| Total assets | €600,311 |
| Revenue | €9,091,697 |
| Leverage ratio | 56.00% |
| Liquidity | 228.00% |
About Indonesia
Indonesia is a republic with a presidential system. The country is a unitary state, which means the power is concentrated in the central government. Indonesia consists of hundreds of different indigenous ethnic groups; the largest and politically dominant group are the Javanese. Indonesia has a mixed economy, in which the public sector as well as the government play a big part. The country is the greatest economy in southeast Asia and a member of the G20.
Last funded project
PasarMIKRO
Smallholder farmers today face the effects of global trends like climate change and inequality. Solving the problems they face will have a significant positive impact on food supply chains across the world and improves their livelihoods. PasarMIKRO is Indonesia's first agri-tech company that empowers these farmers with modern-day trade finance solutions via a simple and secure App. Meri, a female mango trader, is enthousiastic: "I like using PasarMIKRO App, it helps me to safely pay and receive money for my mango business and run my finances in a secure and organized way." This loan allows 1,728 Indonesian farmers and traders like Meri to improve their business.
Fully funded in 58 days on 22 March 2023.