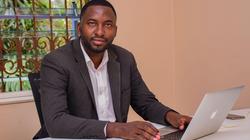 Innovative project PlusPlus doubles harvests
Interview with Benjamin Njenga - co-founder of Apollo Agriculture
For nearly fifteen million Kenyans it is not a given that they have enough to eat every day. Especially small-scale farmers in rural areas are continuously under threat of not having enough to eat. One of the reasons is the low yields from their lands. The farmers have no access to finance to invest in techniques and materials to improve their harvests. Apollo Agriculture changes this situation. Founder Benjamin Njenga tells us how.
A youth at the farm
Benjamin grew up in the countryside and has first-hand experience of the problems small-scale farmers face. "My mother was a small-scale farmer. She worked with low quality seeds and did not use fertiliser. Our harvest was disappointing every year. She had a hard time trying to earn enough for my school fees. If she had had access to finance, everything would have been different. She would have been able to invest in better seeds and other production resources. From a young age, I wanted to find a solution to this problem.
More than half of Kenyan children do not finish secondary school. Benjamin was also forced to take a year out, as his mother was unable to pay his school fees that year. Thanks to a government scholarship, he was able to continue his education and ultimately complete a degree at a prestigious university in Kenya. "This detour could have been avoided if my mother had had enough income from our farm. This is a very common problem. At the same time, I see opportunities for companies to contribute to the solution."
Benjamin specialised in business administration, agriculture and technology. "In doing this, I created the right background for managing a company offering technical solutions to the problems small-scale farmers face." He came up with the final idea for Apollo during a meeting with its other founders.
This is how Apollo helps small-scale farmers in Kenya
"Small-scale farmers are cash poor and seen as such, but they are also land rich. They are able to run a successful agricultural enterprise, as long as they receive the right support", according to Benjamin. Apollo reaches those small-scale farmers that cultivate an area of land of just under 2.5 acres on average. They don't usually use modern techniques and have no access to finance to invest in these. This makes them very vulnerable to extreme weather conditions like long-term droughts and unpredictable rainfall, which occur more and more frequently due to climate change.
"We calculate what they need to increase their yield", says Benjamin. "This is how we help them transition from self-sufficient farmers to a more commercial approach. The farmers now have access to seeds, fertilisers and other high-quality essentials. We combine this with the necessary training to increase the yield. When they increase production, they have more food available for their families. On top of this, they sell their surplus at the local market, which means they are able to invest in their farm and cover costs like their children's school fees."
PlusPlus increases Apollo's reach
Benjamin is fully determined to reach many more farmers in Kenya. "Our package consists of a loan to the farmers. After their harvest, they pay us back. We have created a product that is of real value to the farmers. Since founding our company, we have reached well over 25,000 farmers and we want to keep growing."
"We find new clients through radio commercials, representatives in villages and through word of mouth. We work hard on identifying which channels are most effective in bringing us new clients and focus mainly on those. Besides this, we use an automated system to register and guide farmers until the moment they have to make repayments. For instance, they can apply via SMS, after which our call centre gets in touch with them. There is a lot of potential for scaling up."
Apollo needs working capital in order to grow. "For instance, we need to pay the representatives in the villages that recruit new farmers, among other things, give them an advance for travel costs. And we need to purchase the products for the farmers"
More important than ever
Due to the COVID-19 crisis the farmers face even greater challenges and Apollo's work has become more important than ever. Despite the limitations, most activities can continue. Apollo works using automated processes, meaning they can guide customers from registration through to delivery, with minimal physical contact.  "Even during the COVID-19 crisis, farmers will continue to plant. Now in particular, it is important to keep supporting them. We don't want this health crisis to lead to a food crisis too. Let's make sure together, that these farmers can keep investing. In their land in their family's future.